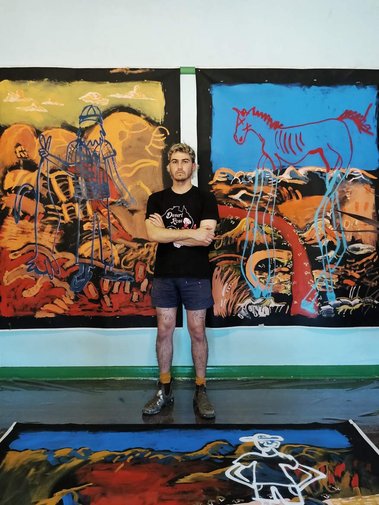 About
Zak Tilley is a Northern Territory based artist concerned with how one relates and identifies with the natural environment, in particular Australian native flora, fauna and landscapes.

Growing up in Western Sydney and graduating from The College of Fine Arts, UNSW in 2014 with a Bachelor of Fine Arts, Zak majored in Drawing and Painting but mostly produced mixed media paintings, dyed and embroidered textiles, sculptures and ceramics.
With a background in education, youth and arts engagement and development, and social services in Alice Springs (Mparntwe), Zak continues to facilitate creative workshops for youth and community development which heavily influences his practice and creative philosophies.
'My work is a critical analysis and personal investigation of my relationship with the Australian landscape. Central Australia has made a huge philosophical impact on my practice. It has made me question my intent and sensitivity when painting. My works have become more critical of my relationship with the landscape, as a way to navigate the guilt of appreciation of a land – a land whose history of neglect, abuse and removal from its traditional owners and custodians, is intertwined with my settler heritage. The works I have painted for this exhibition depict my various encounters with the Australian landscape this summer, from thick smoke haze and pyro cumulonimbus storms on the South Coast, to dust storms and flooding of the rivers in Central Australia. My depiction of recent climate events is limited in my works due to sensitivity of communities, and my own processing.' – Zak Tilley.